Run smarter with managed cloud services.
The cloud is a catalyst for growth and new opportunities for IT transformation. Choosing the right cloud strategy unlocks the potential for innovation and meaningful business outcomes.
Your business can't afford to wait. Neither can it afford to migrate recklessly. A poorly managed cloud migration can disrupt business, put data at risk and break the budget. Our managed cloud services help you migrate smarter so you can get the benefits of the cloud without the risks.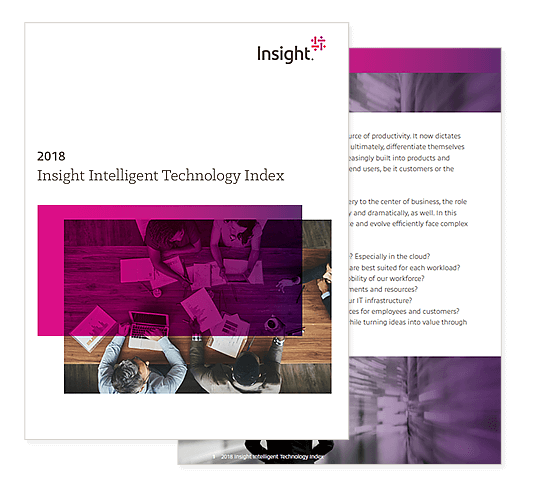 64% of IT professionals say investing in cloud services creates a more flexible and/or collaborative IT environment.
— 2018 Insight Intelligent Technology Index
Read the report
Get support at every stage in your cloud journey
Your journey isn't over once you've successfully migrated to the cloud. In order to maximize your return on investment, you need to monitor, operate and manage your service — incorporating new tools, processes and skill sets along the way.
We'll help you achieve long-term success by designing, migrating and managing your workloads in the cloud.
We'll help you migrate intentionally.
Managed cloud services will help you be more deliberate about cloud migration so you can avoid the public cloud pitfalls of the past. To ensure a healthy data migration, we start with three essential services: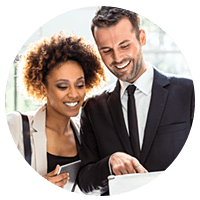 Workload assessment
Together, we'll evaluate your current workloads and determine which are suitable for the public cloud.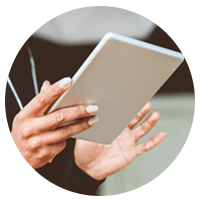 Cloud preference
The public cloud to private cloud ratio is unique for every business. We'll find the perfect mix for your organization.
Migration strategy
We'll develop a custom cloud road map that details the steps needed to start your IT transformation.
Start with workloads.
Before deciding whether a workload belongs in the public cloud, it's important to consider security, data growth and compliance.
Through our workload assessment, we'll reveal important details, such as:
Latency requirements
Data retention policies
Security & access requirements
Interdependencies with other applications
Find balance between public and private clouds.
We offer managed cloud services for private, public and hybrid cloud environments. Our public cloud solution gives you more flexibility to scale capacity as your needs change. For both public and private clouds, we also offer help with security and control over your data.
Based on your company's workload assessment, we'll identify the right combination of public and private cloud for your business. With your goals in mind, we'll help you discover which technologies are the best fit for your environment.
A customized approach with proven results
A client with hundreds of convenience store locations across multiple states that relies on uninterrupted access needed to migrate to a new data center with zero disruption. We were brought on to mitigate risk and ensure a successful transition.
This data center transformation combined a public cloud strategy with migration services and included:
Hundreds of applications to be migrated
Company data to be migrated
Application-level monitoring
Advanced disaster recovery
We offer three tiers.
Managed cloud services are available in Basic, Managed and Comprehensive tiers and include the following services:
Basic: Datalink OneCall®, reporting, monthly billing
Managed: Basic + 24/7 monitoring, incident response & more
Comprehensive: Managed + 24/7 cloud and data center operations management & more
All tiers can be supplemented with optional engineering on demand services. We also offer add-on services (including hosting, migration and implementation) to help you optimize your cloud environment.
Keep operations running with managed cloud services.
Moving to a cloud platform can significantly reduce IT expenses and enhance your ability to meet workload demands. Learn how managed cloud services can help accelerate your move while protecting your data and applications.
Conquer the cloud.
We'll help you migrate to the cloud with confidence through our managed cloud services. Connect with a specialist to learn more about what we can do for you.