Know your security position.
Are you confident in your business's ability to defend against ongoing attacks or recover in the event of a breach? Our security assessment equips you with the information you need to implement enterprisewide protection.
We have the dedicated experience, extensive resources and deep partner relationships to defend your most valuable assets. We'll help you:
Mitigate risk.
Boost operational efficiency.
Improve client experience.
Increase cost-effectiveness.
Extensive services to match your needs
Whether you need help prioritizing and implementing known vulnerabilities or are starting from square one, we work alongside your staff to remediate any shortcomings.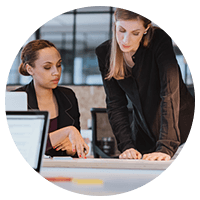 Audit & compliance
We're experts in a range of frameworks and compliance initiatives impacting multiple industries, including HIPAA, GDPR and PCI.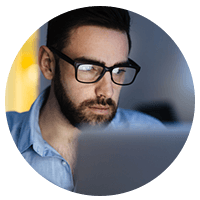 Vulnerability assessment
Our auditors gather and classify all systems, open ports and running services to provide a complete overview of your environment.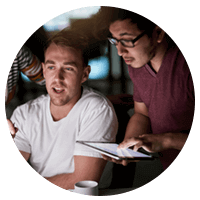 Penetration testing
We can demonstrate the destructive power an attack from the inside, a rogue employee or an untrusted contractor can inflict.
A partner to protect your business
Privacy and security are top concerns for enterprises today. We've helped industry leaders continue to safeguard their most valued assets. Explore our case studies:
Client: Large U.S. bottler and distributor

After tripling in size during an acquisition, this client needed a complete network assessment and technology update to maintain consistent coverage, protection and protocols.

Our team:

Thoroughly assessed infrastructure & internal skills
Addressed & minimized network events
Prioritized & sequenced IT investments
Refreshed technology in 8 bottling facilities & 42 sales/distribution centers
Implemented remote network monitoring & management

Client: Leading distributor of vehicle components

This client needed guidance to ensure there were no security gaps after its chief information security officer left the company.

Our team:

Provided a temporary chief information security officer
Developed project plans for addressing areas of concern
Addressed key issues, including DNS, Active Directory®, PKI infrastructure, password remediation & vaulting, encryption, file sharing & data loss prevention

Client: National law firm

The aftermath of a security breach prompted this client to seek enhanced protection throughout the firm.

Our team:

Performed on-site & remote vulnerability scanning & implementation on a next-generation firewall
Identified 10 high & 3 critical vulnerabilities & 1,400 login attempts in a brute-force attack targeting a terminal server
Reviewed a network diagram & proposed a future state complete with new firewall, wireless & network hardware, installation & integration with managed services

Client: Large healthcare organization

Following an acquisition, we initiated a three-year security assessment and review to guarantee compliance measures were being met and data was completely protected.

Our team:

Performed external & internal vulnerability & penetration testing
Conducted a compliance audit
Executed HIPAA & PCI Strategic Security Assessments
Decades of experience, global reach
We have a track record of successfully securing complex enterprise environments while minimizing disruption — so you can continue to work efficiently.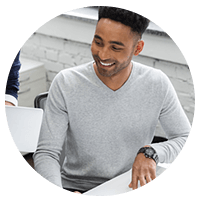 Comprehensive service
From architecting solutions to selecting technology and providing long-term support, we handle all aspects of your security.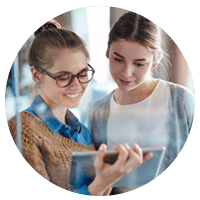 An extension of your staff
Focus on growing your business. Leveraging our security expertise frees your staff to tackle other projects.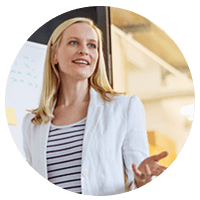 Vendor freedom
We craft an intelligent security solution for your business using ideally suited offerings from leading providers.
Delivered through a proven road map
Our security strategy road map takes a holistic look at your business, analyzing processes, attaining critical buy-in and delivering actionable results. Explore our process:
Survey

Align & prioritize

Evaluate & define

Deliver
Survey
We survey both internal business units and security stakeholders to gain a thorough understanding of your organization. Our team gathers deep insights into how staff perceive their security posture, what stakeholders are planning and the risks they're trying to mitigate.
Align & prioritize
Mapping all current and proposed security objectives to your business goals creates true alignment. And agreement on priorities from the security team establishes clear direction.
Evaluate & define
People, processes and technology are the core pillars driving your organization. We analyze each separately to understand the skills required to implement security initiatives, evaluate process gaps and define the capabilities of your technology.
Deliver
Your road map details business objectives and security initiatives, as well as how each delivers value back to the business. This helps organizational leadership understand the current state versus the desired state.
Stay ahead of the evolving threatscape.
IT security risks have become more visible, and threats affect more than your organization's reputation. Mobility, the cloud, virtual data centers and the Internet of Things (IoT) have introduced vulnerabilities into every organization. Our security assessment gives you the proactive position you need to remain protected.
Request an assessment
Bolstering security during IT transformation
With an increasing number of cyberattacks targeting organizations across all industries, robust data protection has become a business imperative. Learn about the key challenges to building strong cybersecurity during data center transformation.
Ensure your business is protected.
An IT security assessment will help you identify vulnerabilities and strategize ways to defend against them and maintain compliance.