4 Small Business IT Solutions and Tech Predictions to Watch for in 2017
What IT solutions for small business will reshape this arena as we know it in the year to come? Naturally, the list could be never-ending, namely due to the technology rich business environment and its current startup climate; one that sees newer solutions arrive on a near daily basis. Here's a quick look at four technology predictions for 2017 that easily have the potential to change small business as we know it.
Newer, fully integrated and easy-to-use payment options will take center stage.
One of the most commonly used and relied upon IT solutions for small business are payment options. In recent years, this meant the integration of viable and efficient, user-friendly, point-of-sale (POS) systems. This will still remain the status quo moving forward into 2017. But expect to see some trends take center stage, too.
Consumers will demand even easier and faster payment options. Businesses that are equipped to accept payments using solutions like Apple Pay, Google Pay, Samsung Pay and even PayPal checkout options (such as Home Depot already offers), will benefit the most.
According to a study that was conducted by CreditCard.com, 11% of consumers in the U.S. prefer to use their smartphones to make in-store purchases. But with 71% of consumers owning internet-enabled smartphones, the market is ripe for making payments easier.

Source: Federal Reserve Consumers and Mobile Financial Services 2015 report
In-store comparisons and mobile payments will also go hand-in-hand, and have the strong potential to increase the Average Order Value (AOV), too. As of 2014, as the chart below reflects, you can see a healthy trend of mobile in-store payments in industrialised nations.

Source: GFK FutureBuy 2014
By offering easier payment options for customers, small businesses can reap the rewards found in the influx of sales they generate. According to the same aforementioned CreditCards.com study, 6% of consumers said that they would "always" use their smartphone to make purchases if the opportunity was available, and 11% would "most of the time."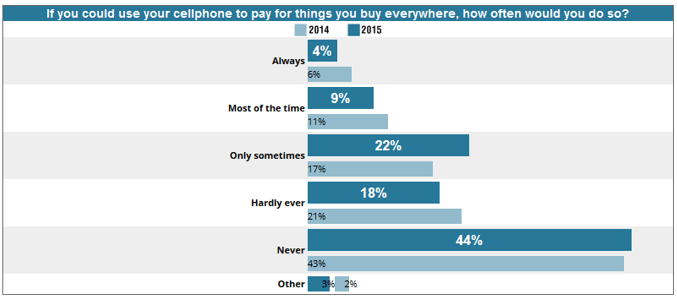 Source: CreditCards.com polls fielded Sept 4-7, 2014, and March 5-8, 2015, by Princeton Survey Research Associates International
There will be no more 'negotiating' about security protocol.
Consumers are becoming increasingly weary of data breaches. Tragically, these security breaches have become rather commonplace in recent years. According to Inside Sources, there have been more than 5,000 security breaches resulting in 815 million confidential records being stolen by nefarious hackers in recent years.
As a result, the U.S. House Financial Services Committee has mandated that businesses that do experience a security breach are required to document it fully and report it the pertinent federal and local authorities, in addition to making their customers aware of the breach.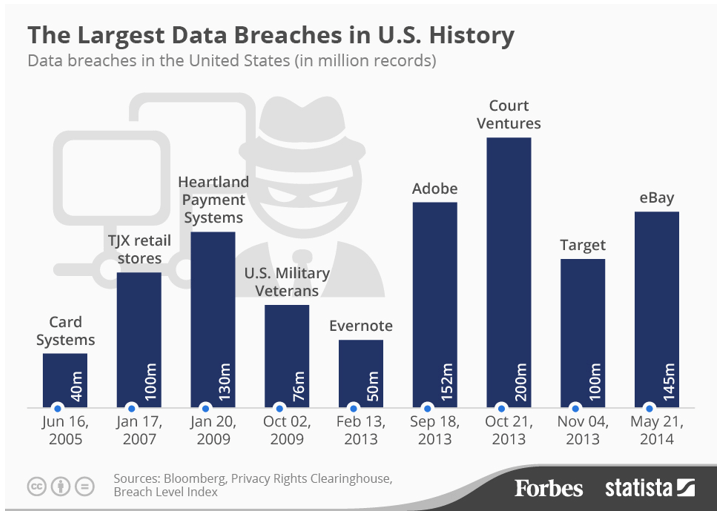 Source: Bloomberg, Privacy Rights Clearinghouse, Breach Level Index
Leading experts agree that resolving security issues and the integration of new security technologies will be among the most prominent of small business IT solutions in the years to come.
CIO lists the top five largest security concerns as being:
Cybercrime
Privacy and regulation
Threats from third-party providers
Bring Your Own Everything (BYOx) trends in the workplace
Engagement with your people
Expect to see an influx in small to medium businesses making efforts to confront these existing and emerging security challenges. Doing so helps protect their bottom line while improving consumer confidence in the brand.
Connected devices will automatically update their status and needs.
A noteworthy and emerging small business IT trend to look out for in 2017 and beyond are connected devices. These will vary greatly, and will range from devices that automatically report low inventory, with the ability to reorder when supplies become low — such as copy machines that automatically reorder toner and paper when inventory is low — to automated inventory routing, self-tracking delivery vehicles and more.
The Internet of Things (IoT) will truly change the way that businesses run internally. As Mutual Mobile describes it, this can encompass everything from employee ID cards to connected meetings, manufacturing and warehousing, and even reduced overhead.
Indeed, the connected workplace is the newest seedling in the ever-expanding business rainforest. As Tech Radar emphasises, a connected workplace imbues emerging small business IT trends that include the use of smart apps at work, wearable cameras and mobile workers, resulting in improved connectivity, productivity and accountability, as well as reduced operational costs.
Cloud-based solutions will become the new norm.
Perhaps the most prevalent of all IT trends for small business you can expect moving into 2017 are cloud-based solutions. A variety of popular cloud services already exist that deliver email, storage and application solutions for small and medium businesses. For example, Google Apps for Work offers a suite of popular Google cloud products with tiered pricing for businesses.
File sharing services like Dropbox leads the pack with a 33% adoption rate, according to Small Business Computing. Microsoft's OneDrive comes in as the second most used small business cloud solution with a 31% adoption rate. Meanwhile, the third most popular cloud solution is Google's Drive, which has a 27% adoption rate. Not to be outdone, however, Microsoft leads the pack with Office 365, which has a staggering 36% adoption rate.
But just how many businesses are getting on board with cloud solutions? An in-depth Right Scale study is telling. The findings of their "2016 State of the Cloud Survey" help to answer many questions. Hybrid adoption is up by 77%, with 95% of respondents using the cloud currently in some form.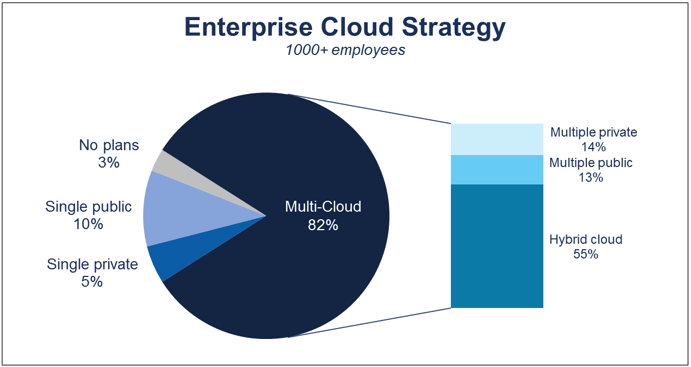 Source: RightScale 2015 State of the Cloud Report
Just because adoption rates are at all-time highs does not mean that cloud adoption rates do not intrinsically have their array of issues. Lack of resources and expertise are the key reasons why many small and medium businesses have not scaled up to the cloud, followed by security concerns (27%) and compliance (26%), along with numerous other factors.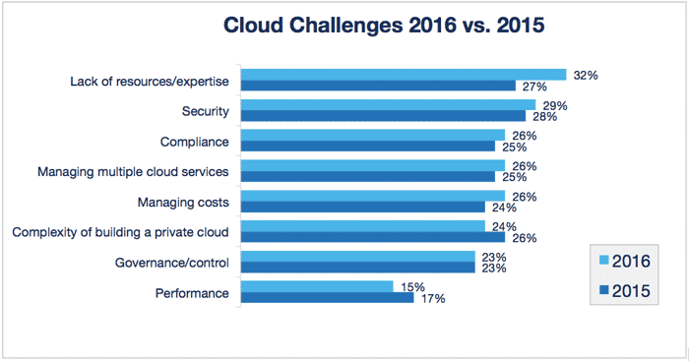 Source: RightScale 2016 State of the Cloud Report
As IT solutions for small business such as these become more feasible, you can expect adoption rates to climb even higher in the years to come. As it currently appears, though, 2017 is on course to set some new technology records. Expect these trendsetters to remain in the limelight for quite some time to come.